Best price digital multimeter dt9205a
Features:
UA9205N large screen digital multimeter multi-range automatic
shutdown Value practical.
UA9205N digital multimeter is an easy to operate, accurate readings,
full-featured, compact, easy to carry, use battery-powered handheld
large screen LCD multimeter, UA9205N digital multimeter for three and
a half, the table can be used to measure DC voltage / current,
AC voltage / current, resistance, capacitance test, diode test,
transistor HFE measurement and circuit off. For engineering design,
laboratory, pilot production, factory affairs, field operations and industrial
maintenance use.
--Full-featured the wrong stalls as well as over-range protection.
--Anti-burn performance better automatic shutdown function.
--COMS integrated circuit, the principle of double integral A / D conversion.
--Automatic zero, auto-polarity selection.
--Parameter indicators.
--Power: 1 x 9V neda1604 or 6F22 Battery (Not include)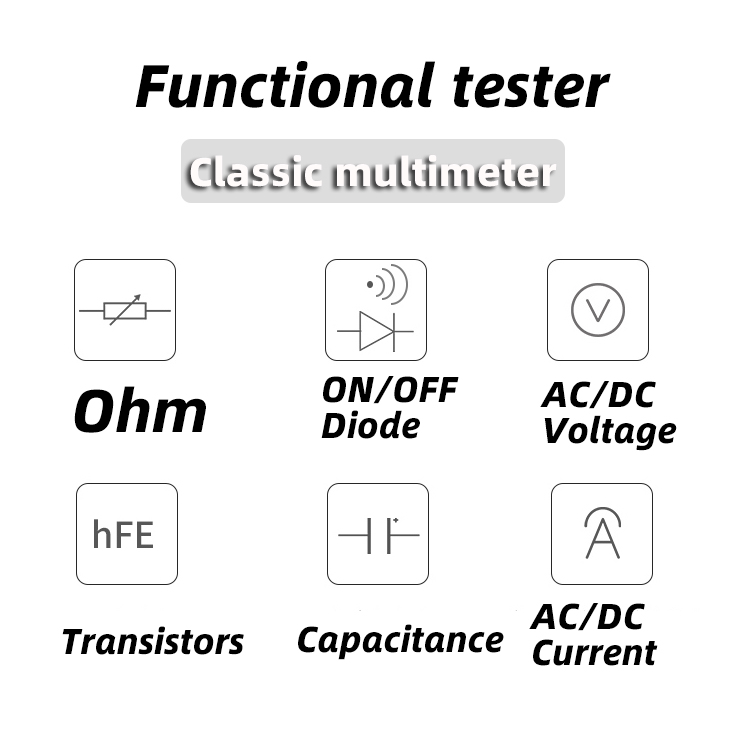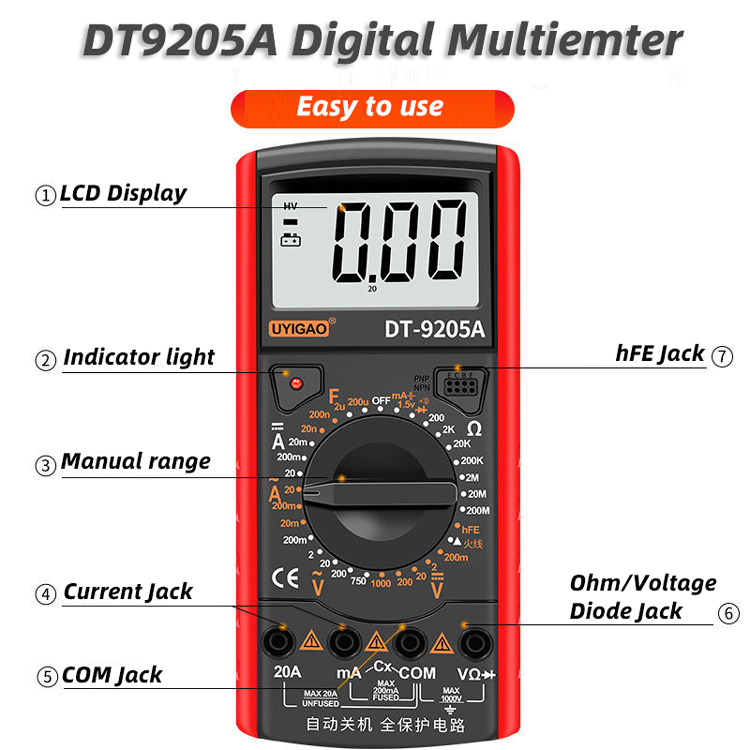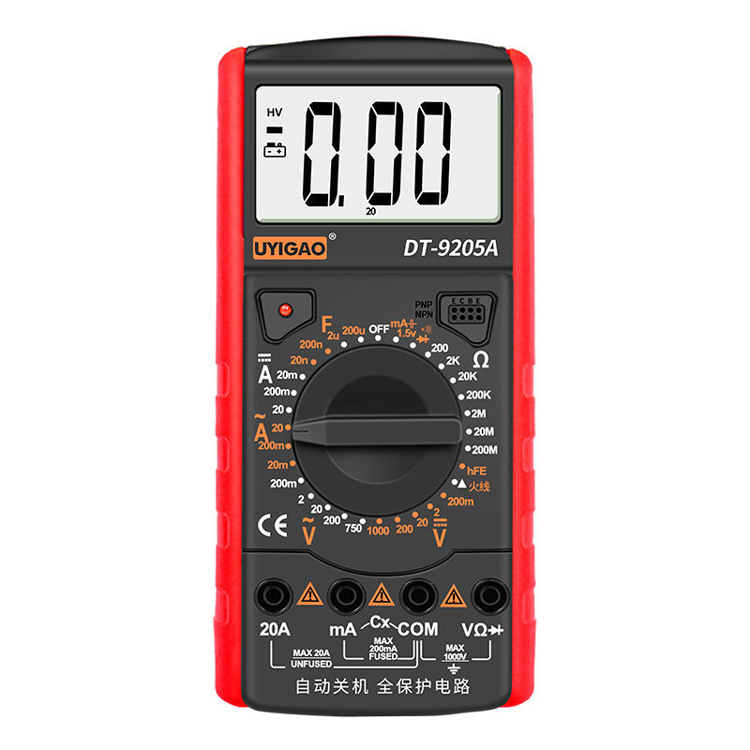 Large screen display Multi function Digital Universal meter Professional Multimeter
Products overview:
Full protection function, high voltage ignition circuit design

New shockproof, streamlined design, comfortable feel

Large screen display

Strong anti-jamming capability
General characteristics:
Basic function

Range

Accuracy

DC voltage




AC voltage

200mV/2V/20V/200V/1000V




200mV/2V/20V/200V/750V

±(0.5%+3)




±(0.8%+3)

DC current




AC current

2mA/20mA/200mA/20A




2mA /20mA/200mA/20A

±(0.8%+3)




±(1.0%+3)

Resistance

200Ω/2KΩ/20KΩ/200KΩ

/2MΩ/20MΩ/200 MΩ

±(0.8%+3)

Capacitance

2nF/20nF/200nF/2uF/200uF

±(2.5%+20)

Temperature

x

—

Frequency

x

—

Special function






Diode test




Triode testing




√

Logic level test




Continuity buzzer




√

Low battery display




√

Data hold




Auto power off




√

Function protection




√

Anti-vibration protection




√

Input impedance for DCV

10MΩ

√

Backlight




—

Sample frequency

60Hz

√

Operation

Manual range

√

Maximum display

1999

√

Display size

63x32mm

√

Power

9V battery (6F22)

√
-Dimension: 185*90*35mm
-Weight: approx.300g
Package Contents :
1 x Digital Multimeter
2 x Leads
1 x User Manual
Keywords: digital multimeter dt9205a, dt9205a, dt9205a multimeter, dt9205a digital multimeter price, 9205a digital multimeter, digital dt9205a, dt9205a+ digital multimeter, dt9205 multimeter, dt9205a price, avometer digital dt9205a, multimeter 9205a, digital multimeter 9205a, multimeter digital dt9205a